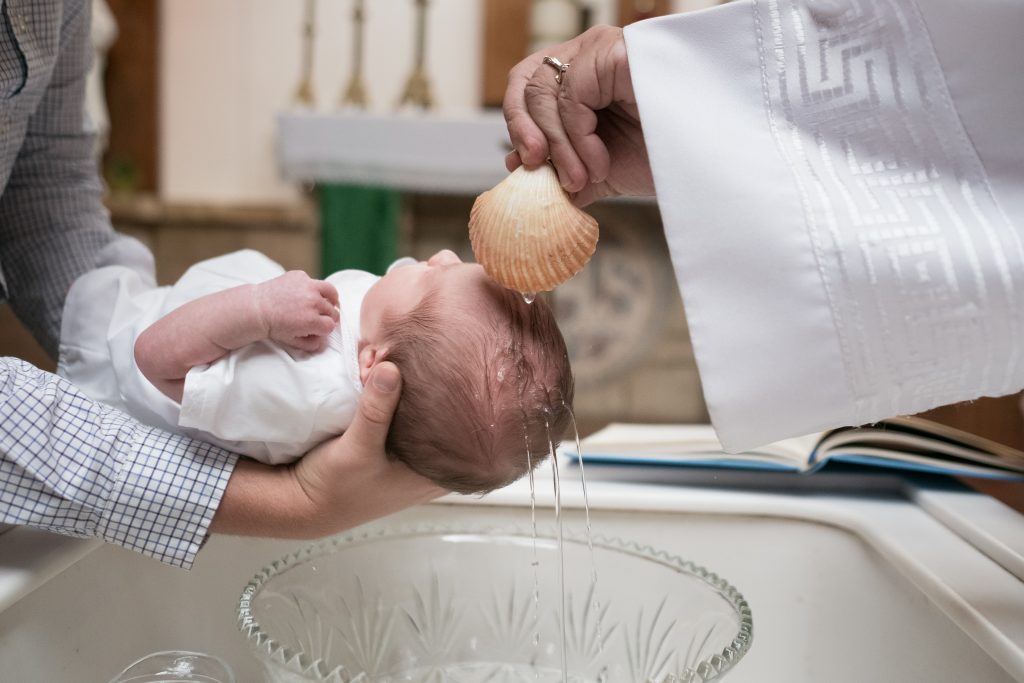 For Baptism information please contact Cindy McCullough. Para información sobre el bautismo, por favor comunicase con Shannon Henson.
Infant Baptism – If you are planning to have your baby baptized in the Catholic faith, please follow these instructions:
To request Baptism at St. Mary's the family should ordinarily be members of the parish.
Infant Baptism is for children from infancy age to six years of age.
Parents and Godparents must attend baptismal preparation classes.
Children Baptism – Children who have reached the "age of discretion" (7-years-old) must be initiated (baptized and confirmed) using the Rite of Initiation of Adults, adapted for children.
If you wish to have your child (over the age of seven) baptized, please contact Dawn Purcell at dpurcell@stmarych.org
Adult Baptism
Adults seeking baptism need to proceed through the Rite of Initiation of Adults (RCIA program with the assumption that their baptism in the Catholic Church signifies their desire to become Catholic as well. RCIA will prepare the adults for the Sacraments of Baptism, Confirmation, Eucharist, and Reconciliation. Please contact Pam Deffibaugh with RCIA at pdeffibaugh@stmarych.org
Documents required for Baptism
To set the date for a baptism you must first submit your completed documents & meet all requirements above. Please have the following completed documents e-mail to Shannon Henson at: shenson@stmarych.org
Copy of the child's birth certificate (or hospital verification of birth)
Godparent Qualifications
ONE Godparent must be a Confirmed & practicing Catholic, who is also in good standing with the church. (This means a Catholic who is baptized, has received the Eucharist, has celebrated Confirmation and if married, they must have been married in the Catholic Church and provide documentation of a Sacramental Marriage).
They must also have a letter from their current parish sent to the St. Mary's Parish office to verify this. Please ask them to reference your child in the letter. The letter can be mailed or dropped off.
-Must be at least 16 years old.
-Not a parent of the one to be baptized.
-Not bound by any canonical penalty.

A baptized person, who is not a Catholic, may serve as a Christian Witness to the baptism with one Godparent.
From Canon Law #873
One sponsor, male or female, is sufficient; but there may be two, one of each sex. This means that there cannot be two of the same sex, and there cannot be more than two sponsors. The only possibilities are (1) one sponsor, or (2) one sponsor of each sex.